"I've put just over 1K miles on the car since the swap, including a trip to Lake Tahoe (450 miles roundtrip) and back. Since the Tahoe trip involves going from Sea Level to about 7400 ft and back down to 5400 feet in the matter of only 100 miles, it was about as much of a "cruising torture test" as you can throw at it. Car passed with flying colors . . . overall, I'm very happy with the mod!"

-Ed R., BBHP #21

Can you picture it?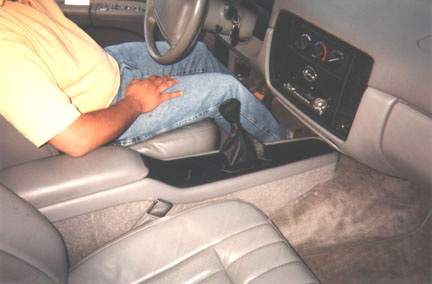 This is a shot of the center console conversion that's included with your kit - a custom plastic insert replaces a piece in your console, and includes a 2001 Corvette leather shift boot. The shifter falls right to hand. The console conversion is performed by an automotive upholstery expert (labor included with kit purchase) so all you do is remove it, mail it out, and then re-install when you get it back. The look is factory.

Our kit is very complete - all you add is a transmission, clutch, flywheel, and PCM reprogramming. If you want a 6 speed manual in your '91 - '96 Impala SS, Caprice, Roadmaster, or Fleetwood, we offer the only kit to do it. Having installed 8 of these ourselves, we have ironed out all the wrinkles.

The kit is designed with the do-it-yourselfer in mind - no welding or fancy tools are required. If you have changed an engine or transmission, then you can do this conversion using our kit. If you want the fun without all the work, we offer full installation at our shop just outside Washington, DC. Additionally, most competent shops will be able to perform the installation as well. If you're interested in shopping the installation around, drop us a line and we can send you the instructions to take with you.

The kit includes:

BBHP designed clutch pedal bracket and pedal, powder coated. Pieces are laser cut and TIG welded in a fixture so each pedal is dead on, every time. The length and angle of the clutch pedal arm has been carefully determined so that the face of the clutch pedal pad lines up perfectly with the brake pedal pad, and the distance between the two means you find the right pedal every time, just like you'd expect from the factory.
BBHP designed transmission crossmember. The factory crossmember is heavily modified to our specs, TIG welded in a fixture for accuracy like the clutch pedal. Modifying the crossmember to support the T56 requires cutting out a large section and welding in a new shape. While getting the crossmember to physically accomodate the T56 is not too challenging, retaining the strength of the crossmember proved tough. Extensive R&D, multiple iterations, and real life road testing has developed a strong, accurate piece that's as solid as the factory unit.
BBHP designed firewall reinforcement brackets. Two pieces, custom made, support the thin sheetmetal firewall. The clutch pedal bolts up to the firewall where it wasn't designed to handle the constant pumping of a pedal. Our brackets tie the clutch pedal assembly to existing reinforcements under your hood - the result is a solid, long-lasting foundation for your clutch pedal. BBHP #2 has over 75,000 on the conversion as of January, 2001! Talk about R&D!
Clutch Fluid Reservoir mounting bracket. This bracket lets you neatly mount the clutch fluid reservoir under your hood, in front of the brake booster. Only the super eagle eyes out there will notice that this didn't come from the factory this way!
Hydraulic clutch assembly, including master cylinder, slave cylinder, fluid reservoir, and stainless braided line
All necessary hydraulic fittings and hoses. '94 and '95 Impalas also receive a specially machined bulkhead fitting for passing the clutch fluid through the firewall. '96 Impalas have a large opening on the firewall through which the fluid can be passed.
Custom numbered billet aluminum throttle body plate (LT1, LT4, L98 engines only) and shift knob
All new Weatherpack connectors (reverse light, neutral safety switch, and for '94/'95 only speedometer), just like the factory uses
Rear main seal
Corvette leather shift boot - included with the conversion of your console
Rubber floor-to-shifter boot - an important piece, this seals your cabin from the elements
Polyurethane transmission mount - a high performance mount
Fully detailed, step-by-step installation instructions with over 30 color pictures
Grade 8 hardware
Unlimited technical support via email or telephone
One-year warranty on all BBHP-produced parts
Additional components needed (available through BBHP):
Clutch assembly (SPEC Stage 2 setup recommended)
PCM reprogramming - needed to ensure your speedometer reads correctly after the swap
Suggested upgrades (also available through BBHP):
Factory rebuilt T56 transmission with 12-month warranty
4.10:1 rear gear set and custom ABS reluctor
High speed balanced aluminum driveshaft (necessary with 4.10's)
High performance, short throw shifter (Hurst Billet + model recommended)
PCM reprogramming (necessary with gear change)
Borg-Warner T56 service manual
Clutch alignment tool
Still have more questions about the Six Speed Kit? Check out the FAQ.


| | | | |
| --- | --- | --- | --- |
| | · | T56 Group Purchase Coming Soon - get in now! | |
| | · | The BBHP Bulliten Board is up and running. Get kit info and tech support! Go Now | |
| | · | Sell your own parts in the garage sale! | |
| | · | We've added some pictures of the kit parts. Check it out. | |